Visitor Count:

<![if !vml]>

<![endif]>
Site Counter Reset: 10/18/18


Who we are and what we do (Briefly)
<![if !vml]>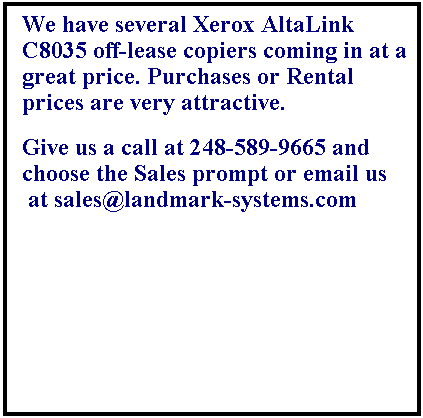 <![endif]>
<![if !vml]>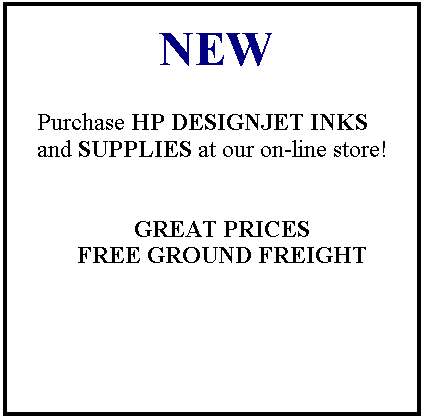 <![endif]>
<![if !vml]>

<![endif]>
Home Page - Pubpagbyrpg Org 010101 Revision 07/05/18 Rev A *
Buy Xerox supplies on-line for your Xerox printer, MFP, or Copier and get FREE SERVICE at no extra charge! And get this, your supplies don't cost you anymore than they normally would! This is an incredible deal. Click on the "Xerox eConcierge" button in the menu area for more details.
<![if !vml]>

<![endif]>
Landmark Systems Inc. is in the business of selling, servicing, and repairing printers, Wide-Format Plotters, Copiers, and MFP's. We have reseller relationships with several manufacturers and we also provide cost effective services on many others whom we don't currently have an official relationship with. Landmark Systems has been in business since 1995, however, the company was providing these same services going back to the late 70's under the previous owners. We are known for being able to repair equipment that the Manufacturers have long since stopped providing support on. If you're seeking experience, value, and honesty, you've come to the right place.
Landmark Systems offers a 4-hour (Average) on-site repair service response time in the Wayne County, Oakland County, and Macomb County and next day repairs in most other Southeast Michigan cities. You can either use our REQUEST A REPAIR SERVICE QUOTATION email request service or give us a call (248-589-9665) and we will get a repair quote to you detailing the costs involved with getting your printer, copier or plotter repaired either on-site or at our depot repair center.


We offer both short and long term Copier Rentals in Michigan. We can offer models from most manufacturers, if it's not in-stock we should be able to get it fairly quickly. Please go to our

COPIER RENTALS PAGE

if you are interested in obtaining a quote.
Any trademarks or logos used throughout this website are the property of their respective owners.
We Specialize in the Repair & Servicing of the following:
HP Designjet Wide Format sales, service and repair.
HP Designjet Plotter service and repair
Designjet Plotter repair.
HP Plotter repair service.
Xerox Phaser Printer sales, service and repair.
Xerox Phaser Multifunction Printer sales, service and repair.
Xerox WorkCentre sales, service and repair.
HP Laserjet Printer sales, service and repair.
HP Laserjet MFP sales, service and repair.
HP Laserjet Multifunction sales, service and repair.
HP PageWide Printer sales, service and repair
Oce Wide Format Printer Plotter, service and repair.
Xerox Wide Format Printer Plotter sales, service and repair.
Xerox ColorQube service and repair.
Canon Wide Format Printer Plotter service and repair.
Xerox Document Centre service and repair.
Xerox Copier service and repair.
Xerox FaxCentre service and repair.
Xerox CopyCentre service and repair.
Xerox DocuPrint service and repair.
Lexmark Printer sales, service and repair.
Lexmark Multifunction sales, service and repair.
Lexmark MFP sales, service and repair.
Dell Copier MFP service and repair.
Dell Printer Fax service and repair.
Ricoh Copier MFP service and repair.
Ricoh Printer Fax service and repair.
Savin Copier service and repair.
Savin Printer service and repair.
Savin MFP service and repair.
Xerox Printer Repair Service
Savin Multifunction service and repair.
Kyocera-Mita Copier service and repair.
Kyocera-Mita Printer service and repair
Xerox VersaLink Printer sales, service and repair.
Xerox AltaLink Phaser Printer sales, service and repair